Pre-finished
Architectural Metals
All Metal Sales specializes in various pre-finished surface condition architectural metals made to order. These finishes are offered on Aluminum, Brass, Copper and Stainless Steel.

We offer: Mirror, Satin, Antique Colors, Woodgrain, Anodized Painted Tin, Nickel and Chrome plated surface treatments.

To prevent tarnishing and discoloration we supply baked laquer and protective coverings. Thus protection is guaranteed during transport, handling and production at your factory.

Architectural metals are custom manufactured to meet your specific requirements for finish, protective coating, gauge, temper width and length tolerances.

Minimum quantities for architectural metal run from 2000 lbs. to 5000 lbs. depending on the specific item.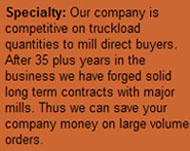 All Metal Sales Corporation

Headquarters: Melville, NY
Warehousing: L.A. CA, Miami FL, Chicago, IL, Lyndhurst, NJ



SERVICE QUALITY RELIABILITY COMPETITIVE PRICING TECHNICAL EXPERTISE
Architectural metals are utilized in the manufacturing of building fronts, interiors, elevators, railing systems, lobbies and furniture applications. Please contact us with your detailed inquiry and we shall respond with an attractive proposal to meet your spot buy or Just-In-Time program requirements. We offer J.I.T deliveries with up to one year in duration.